Purple Shep's room is the location where Purple Shep resides in. It first appeared in "My Dream House" by Purple Shep. It had many toasters in it, along with a toilet mop, three toilet paper rolls (The third was invisible), a desk with a computer and toaster, a tree, and Seth. It was located in Failboat's house, on the other side of the front door.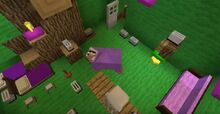 Trivia
On Purple Shep's first birthday, his computer was replaced by a cake with his face on top.
In the video "I Cannot Talk" Seth got his own room, which had two floors and was fancier.