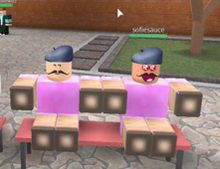 Sofiesauce was in a fashion contest with Pink Sheep and was one of the two original prankster gangsters to sit with Pink Sheep (the first being UglyEpicMeal).
appearance
sofiesauce hardly resembles Pink Sheep But with humanoid eyes. it combines all the colors from the eyes.
behavior
she is one of the persons that sit with pink sheep,the first one being UglyEpicMeal.
on round 2,she will use a clothing that attracts memes,if she is to appear,you must quickly dress up as something else to be in first place.
Community content is available under
CC-BY-SA
unless otherwise noted.